O'HERN'S COOLUM ESCAPE
Nick O'Hern was on 23-under and striding towards victory in the 2006 Australian PGA Championship at the Hyatt Coolum Resort. After marking his ball on the 72nd hole he stood back to contemplate the two-foot par putt that would give him his first professional win in seven years.
RIGHT: PHOTO: Getty Images.
Since his maiden title in 1999 – the Coolum Classic at the same course – O'Hern had notched 56 top-10s, been runner-up 12 times and third-placed 11 times. No-one doubted his metronomic consistency. Indeed, they called him 'Mr Consistency'.
But questions were being asked. Why couldn't he get it done?
Then he missed the two-foot putt. It didn't touch the hole. The crowd gasped. "I just wanted to snap my putter, two-and-a-half-feet to win the tournament and I pulled it," O'Hern said. For agonising moments, he stood aghast, ashen-faced, thunderstruck. And he remained that way for some time.
"Had he jumped in the lake there and then, no one would have blamed him," veteran scribe Peter Stone wrote.
It meant a play-off with Peter Lonard, who also felt for O'Hern. "I said sorry when he missed the putt and he said, 'let's go and have some fun out there'," Lonard said. "What the hell does that mean? I thought if I'd missed it, I probably would have coat-hangered someone."
Three times the pair teed off on 18, three times they returned with pars. On their fourth attempt both men's approach found the bunker. O'Hern would go first. The flag was at the back of a green which sloped away towards water. He had not won in seven years. He had missed a two-footer to win. It was knee-trembler territory.
His escape always looked good. It landed just on the green, rolled down the slope and, of course, fell in. "It was the bunker shot of my life," O'Hern said. "It was my number one golf shot. It was as good as it gets."
Near to tears on 18 he added: "It was hard work after I missed that putt [on 18]. To regroup from there was a real challenge. It's been a long time waiting for a win. I know a lot of people said it wasn't going to happen, but it has, and I couldn't be happier."
And then he cried.
Lonard was gracious in defeat and quipped: "He pulled the rope off my neck, but he hung me later … he may as well have done it the first time."
POPEYE'S CHIP SINKS TIGER & FRED
The President's Cup has been run 14 times since 1994 and been won 12 times by the United States. There has been one tie – when Gary Player and Jack Nicklaus called it a day in the dark when 17-all in George, South Africa, 2003 – while the Internationals' sole victory came at Royal Melbourne in 1998.
And it was a chip by Craig Parry that set wheels in motion.
On day two Parry was paired with Shigeki Maruyama – 'the Smilin' Assassin' adopted by Aussie crowds and who would go 5-0 – and playing foursomes against, ahem, Tiger Woods and Fred Couples.
Parry and Maruyama were similarly statured men – they looked like a couple of chubby clubbies taking on the flat-bellied buck pros from the PGA Tour. Yet Parry had long thrived on being underestimated, and after 16 holes he and Maruyama were down by one, two to play.
After Parry pitched a tricky one out of sandy waste and onto the 17th green, Maruyama holed a curling 35-foot putt to win the hole and halve the match. And he and Parry strode to the last tee riding a surge of home support.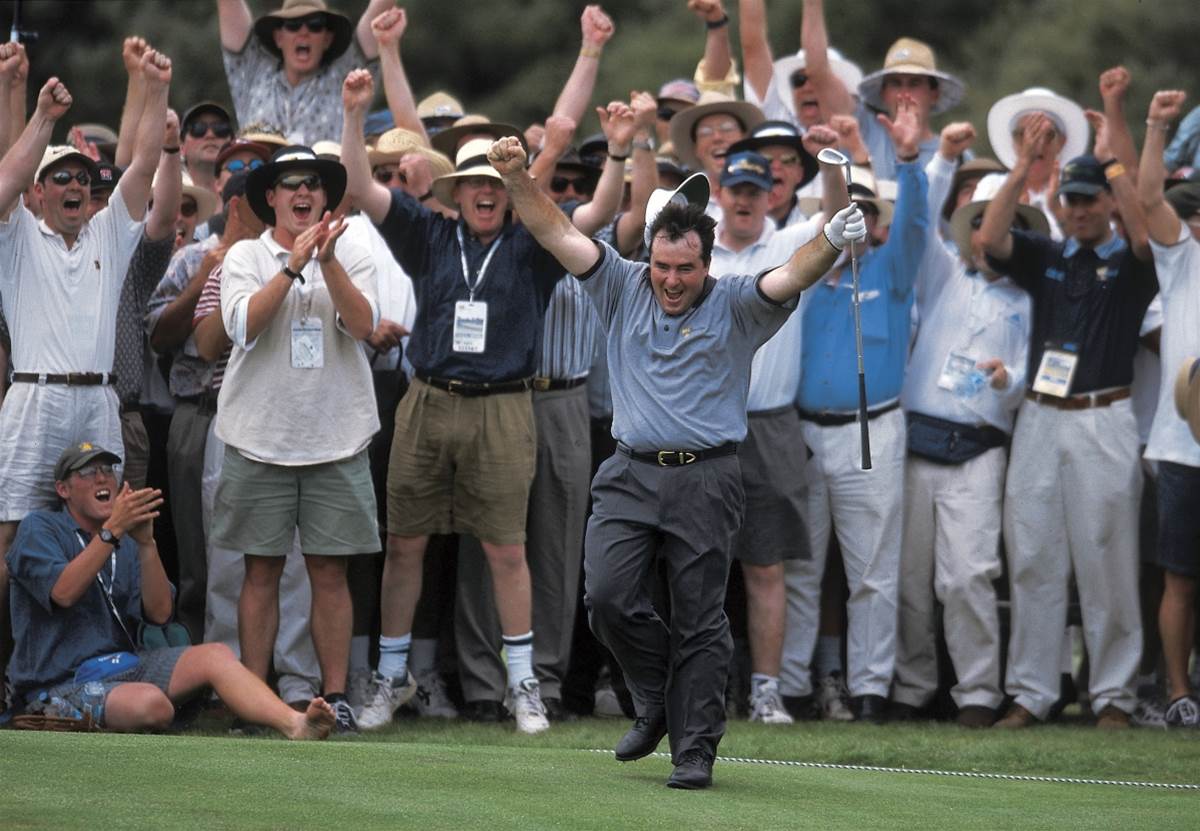 PHOTO: Getty Images.
Parry hit the fairway on 18 but Maruyama's approach was tugged left. The ball was in slightly fluffy rough and Parry was faced with a 20-metre chip-and-run. He gripped down on his wedge, landed the ball just off the green and, along with an ever-noisier gallery, watched it roll inexorably, perfectly into the cup.
And the Melbourne sports fans roared like Warney had knocked over a Pom.
"I don't want to say it was the turning point of what happened in the Presidents Cup in '98, but it more or less was," Parry told Inside Sport. "Another couple of guys behind us turned their game around as well, and we're on top, and the Americans are shell-shocked."
The Internationals ultimately romped home 20 to 11.
LONGEST. DRIVE. EVER
One day in 2004 Mark Bylsma stood on the 1st tee at Duntryleague Country Club in Orange and hit a golf ball the astonishing distance of 401.1m. It remains an Australian record for the longest blow on these shores recorded in a sanctioned long-driving competition.
RIGHT: PHOTO: Brendan James.
Eight years later at The Lakes during the 2012 Australian Open (won by 53-year-old Peter Senior) Bylsma equalled his own national record.
KARRIE'S OPEN EAGLE
As she told Karen Harding in the November 2022 issue of Golf Australia magazine, Karrie Webb turned up at Yarra Yarra for the 2000 Australian Women's Open "on a bit of a tear". In the 14 months since the Open in November of 1998, Webb had won six LPGA tournaments including the Ladies Masters at Royal Pines and her first major, the Du Maurier Championship. She'd been top-10 in 22 of 25 starts.
Notables in the Open field included Laura Davies and Rachel Hetherington. But Webb was odds-on. And with nine holes to play Webb led Hetherington by two and Davies by three. And then things got real.
Davies fired a sizzling 66 – and lost by five. Hetherington birdied the last six holes and finished with an eight-under 65 – and lost by three. And Webb reeled off four birdies and an eagle to finish 22-under and break Jane Crafter's course record with 64.
RIGHT: PHOTO: Getty Images.
The game-breaker was her chip on 16.
As Harding wrote: "The pin that day was deep to the back of a sloping back-to-front green and Karrie in a swale behind it. Hoping to finish within 10 feet, she bumped the ball into the bank with her sand wedge and watched as it slowly, slowly, headed ever closer to the hole before falling in."
Standing next to Hetherington, who had a 20-foot putt for eagle, was her caddie Shaun McBride. "When I chipped in, Shaun just shook his head at me and told me to 'eff' off!" Webb said.
NORMAN'S ALBATROSS
Greg Norman played his first Australian Open at The Australian Golf Club in 1977 and won the last of five national titles at the same course in 1996. In between he made an albatross on the par-5 5th hole during round two of the 1990 Australian Open.
PHOTO: Brendan James.
"I feel good," Norman said afterwards. "I guess holing a 279-yard (246-metre) shot with a 3-wood would make anyone feel pretty good. Any time you do something for the first time, it feels wonderful. I saw it go in — it was a perfect shot. The ball never left the line of the flag and rolled in like a putt."
Norman led the field at the halfway mark but faded with 76-72 to tie third with Wayne Riley. The tournament was won by American John Morse who beat Craig Parry on the first play-off hole.
SPENCE SLAYS THE SHARK
Craig Spence was a 24-year-old Huntingdale member hailed as 'the kid from Colac' when he began the final round of the 1999 Australian Masters leading by two shots over his playing partner, the six-time Masters and five-time Australian Open champion, Greg Norman.
The Shark had stormed up the leaderboard on Saturday with a sizzling 66 and, as ever, attracted massive galleries powerless to his siren song. And it was widely assumed Spence, who'd shot 64 on the Thursday but whose biggest win to date was the 1997 Borrego Springs Open on a U.S Mini Tour, would capitulate under the pressure of the great Shark hunt.
Didn't happen.
After 17 holes the pair was all square at 15-under. Norman had the honour on 18 and smashed his driver down the middle in typical fashion, the greatest driver of the golf ball the game had seen. Spence found the cut stuff, too, albeit nearly 20 metres aft.
PHOTO: Getty Images.
You're up, Craig.
In the Huntingdale clubhouse Peter Lonard was standing on a table watching events. He told Golf Australia what happened next was "incredible."
"Because you know he was playing Norman and I think everyone expected him to fold," Lonard said. "They used to have this back left-hand corner pin that was impossible to get to – unless you were willing to lose."
Spence, apparently, was – because he went straight at it.
From 176 metres his 6-iron was pure. It pitched five metres under the hole and rolled to 60cm. Norman's 8-iron found the middle, but his 40-foot putt pulled up just short. Spence – with an upright, stiff-looking stroke, made the birdie putt – just the 20th in four rounds on 18 – and pulled on the bright gold jacket.
GREEN'S ALBATROSS ACE
Richard Green was playing in the Pro-Am of the 2015 Victorian Open at 13th Beach Golf Links when his downwind drive from 358 metres on the par-4 15th (which usually plays as the opening hole of the Beach Course) rolled into – and then somehow spat horizontally out of – the front, left greenside trap. The ball then sped towards the hole and dropped in.
PHOTO: Getty Images.
"It's the first time ever," Green said on viral video. "An albatross – they don't happen."

© Golf Australia. All rights reserved.