BlueScope Steel has unveiled its vision for a vast parcel of disused industrial land, hoping to transform it into a state-of-the art precinct to attract tens of thousands of workers back to the steelworks.
Key points:
BlueScope Steel has released a master plan for the redevelopment of 200 hectares of disused land
It has signed a deal with TAFE NSW to set-up a "Super Tafe" at the site
The steelmaker has scrapped plans to establish a wind tower manufacturing plant
The steelmaker began developing a master plan for 200 hectares of land at Port Kembla deemed surplus to requirements 18 months ago.
Danish architecture firm Bjarke Ingels Group (BIG) has produced renders of the site, which depict new office buildings, repurposed existing structures such as an old blast furnace and community parkland.
BlueScope chief executive Mark Vassella said the precinct would cater for the growth of emerging industries while returning some of the land to the community.
"Our strategy is what are the adjacencies to our existing businesses that would be relevant for that large parcel of land," Mr Vassella said.
"Whether that is renewable energy, modern manufacturing, defence as well as vocation and training.
"There are large tracts of land we think we will be able to give back to the community, to provide to the community for use."
Historic employer
BlueScope intends to retain 60 per cent of the site as "green and blue space" and keep 70 per cent of the existing buildings to preserve its "steelmaking heritage".
The company is one of the Illawarra's largest employers.
During the 1960s the Port Kembla steelworks employed nearly 30,000 workers.
Modelling from consulting firm Deloitte forecasts the master plan could generate 20,000 jobs and contribute up to $5 billion annually to the gross regional product.
The steelworks currently employs 10,000 workers, with 3,500 direct employees.
There are hopes the plan can return the industrial hub to its former glory.
"We have created our flag on the hill and said, 'wouldn't it be nice having 30,000 people working at Port Kembla again'," Mr Vassella said.
Coinciding with the release of the master plan, the steelmaker has also signed a Memorandum of Understanding (MoU) with TAFE NSW to establish a "Super TAFE" as one of the first users of the precinct.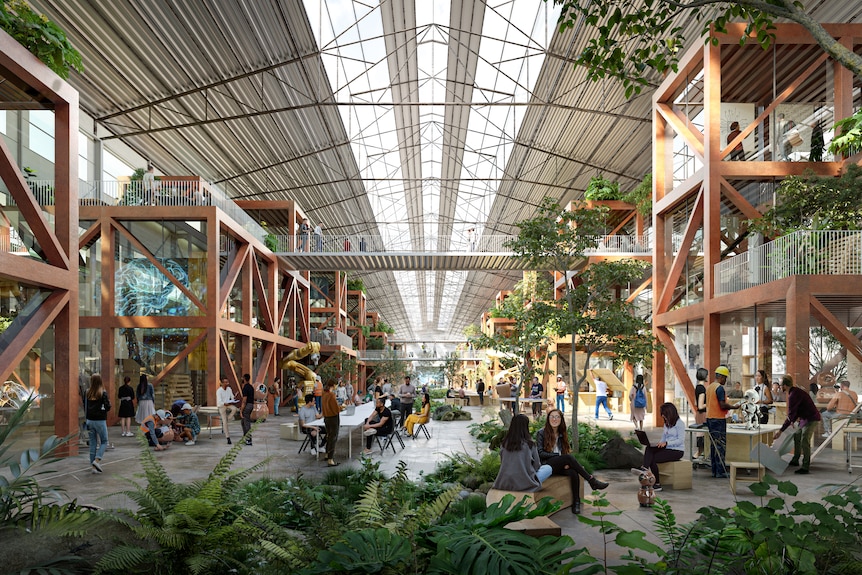 The ABC understands the project is scheduled to be completed before BlueScope's 100-year anniversary in 2028.
Mr Vassella said he expected the redevelopment would be given State Significant Infrastructure Status due to its large scale.
Wind tower plant scrapped
BlueScope's efforts to take advantage of opportunities in the emerging wind energy sector have hit a roadblock after it was forced to abandon plans for a wind tower manufacturing plant.
The project was part of the Advanced Steel Manufacturing Precinct under consideration for planning approval.
BlueScope revised the scope of the project to remove the wind tower facility after receiving advice from Transport NSW.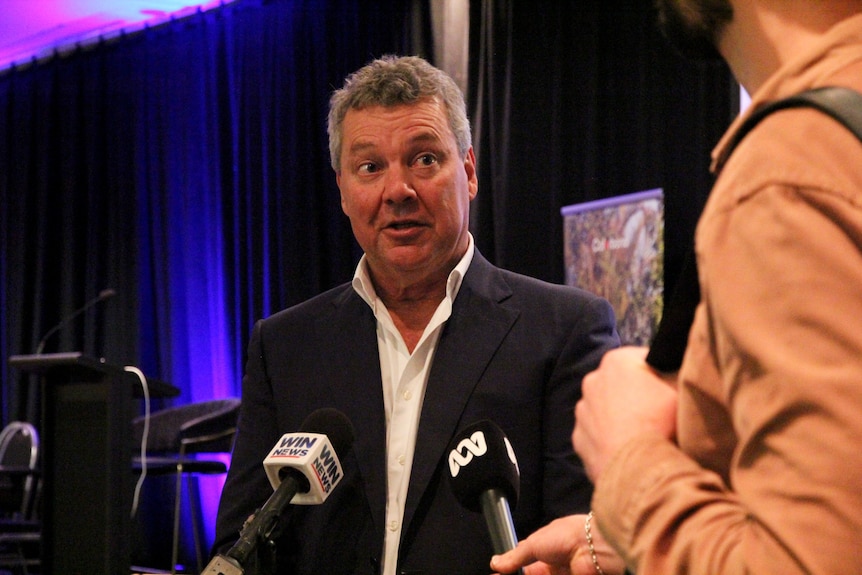 Mr Vassella said the company still broadly supported efforts to manufacture wind turbines domestically, but other regions were likely to be more suitable.
"There are just some restrictions from a road bridge infrastructure perspective that make it difficult for the fabrication of wind towers to occur in this region," he said.
"Physically you can't transport the wind towers because of the size of them and get them under existing bridge infrastructure.
"It is more likely to happen in regional areas where we don't have those restrictions."
The steelmaker is still considering upgrading its plate mill to increase its output from 430,000 tonnes of plate steel to 600,000 tonnes.
Get our local newsletter, delivered free each Thursday