Google and Facebook have been accused of censoring debate on a contentious proposal to change the Australian Constitution to include a special parliamentary body representing Aboriginal Australians.
The Melbourne-based Institute of Public Affairs (IPA) said it provided three examples to the prime minister of programs it produced on the Indigenous Voice to Parliament that were subsequently censored.
"Australians have every right to be deeply concerned that foreign-owned Big Tech giants are exerting significant influence over domestic political and cultural matters," said IPA Executive Director Daniel Wild.
"These Big Tech companies have shown a repeated pattern of behaviour of censoring anyone who merely questions the role, scope, and function of the proposed Voice to Parliament and have displayed a callous indifference towards the right of Australians to be fully informed in this debate."
The IPA said on Feb. 14, 2023, Google did not allow it to promote a video on the platform saying it was an "Australian election ad," featuring an "Australian federal political party, or a candidate for the Australian House of Representatives."
The video was entitled: "IPA research leads debate forcing Federal Government backflip on Voice pamphlet", which featured an IPA research fellow and no political figures.
In September 2022, another video by the IPA featuring Senators Jacinta Price and James McGrath was blocked by Meta's Facebook from being advertised on its platform.
"On four separate occasions, Facebook acted to ensure the visibility of the video was minimised.
"The IPA had attempted to pay a fee to share the video to more social media users but was rejected on the basis that the video was inconsistent with Facebook's policy regarding 'Ads about Social Issues, Elections or Politics policy,'" the IPA wrote in a letter addressed to Prime Minister Anthony Albanese (pdf).
In response, a Meta spokesperson said the ad was removed because it did not feature the necessary "transparency disclaimer" required for content on social issues, elections, or politics.
"If the ad includes the correct 'Paid for by' disclaimer it can be promoted on Facebook," the spokesperson said in a statement to The Epoch Times.
Google Australia has yet to respond to a request for comment.
The Battle for the Voice Continues
Australians will go to the polls this year to decide whether to embed a near-permanent Indigenous Voice to Parliament into the country's Constitution.
The opposition has criticised the proposal for lacking detail over how an advisory body would operate in practice and the scope of its power.
Labor Prime Minister Albanese has said the details would be sorted out after Australians vote at the referendum.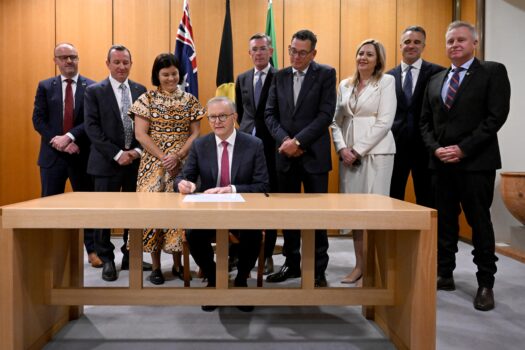 Yet an impending bill in South Australia, introduced by the Labor government, does provide an insight into what a Voice model could look like.
Its proposal will cost local taxpayers around $10 million (US$6.89 million) and includes the election of 46 delegates to sit across seven local and one state Voice body.
Only voters with an Aboriginal background will be allowed to vote for their representative and will need to declare their heritage with the state's electoral commission.
Delegates will also have the power to address South Australia's House of Assembly (lower house) and Legislative Council (upper house) on any bill they deem to have an interest in.
Meanwhile, Prime Minister Albanese has campaigned hard for the federal Voice and was most recently revealed to have enlisted the country's largest sporting leagues to win over the public.
The Australian Football League (AFL), National Rugby League (NRL), Netball Australia, Football Australia, Cricket Australia, and Tennis Australia are working on a coordinated campaign that will be launched later in 2023.
Yet former National Basketball Association player Andrew Bogut has accused the leagues of "sports washing."
"We saw it with COVID and elections. Sporting organisations and clubs have to bow to the government and promote these causes because they know if they don't, the government won't give them grants for stadiums, facilities, and junior expansion," he previously told The Epoch Times.
"I think it's blatant 'sports washing,' whether you agree with the Voice or not, I don't think it should be promoted through sport," he added.
"I would argue all the money being spent on the Voice, promoting the legislation, and [money for] the lawyers who have to write it—that money would do much better to go to actual Indigenous communities and build sporting facilities. Actually, have some nice things in those communities that young kids can aspire to."