This year's French Open in Paris could see "incredible fighters" Novak Djokovic and Rafael Nadal collide for Grand Slam supremacy with Monica Puig hopeful of seeing a "beautiful" battle between two tennis greats.
Djokovic's 10th Australian Open title drew him level with Nadal at the top of the all-time men's standings on 22 Grand Slam titles with all roads now heading to Paris in the spring.
The Serb added another notch in the plus column for those who argue he is the Greatest Of All Time in the GOAT debate.
At 35, he is showing no sign of slowing up while 36-year-old Nadal is on the road from recovery having suffered a iliopsoas injury which contributed to his early exit in Melbourne.
The sky's the limit for Djokovic. I wouldn't be surprised if he were to get another 10 more Grand Slams.
The Spaniard remains touch-and-go for the 'Sunshine Double' in March and remains perilously close to ending an astonishing 18-year streak by dropping out of the world's top 10 with points to defend at Indian Wells.
Former Olympic champion Monica Puig hopes to see 14-time French Open champion Nadal return in time for the clay-court season and Roland Garros, where he could be set for a collision course with Djokovic.
"I hope so because that's always a rivalry you love to see," Puig told Sky Sports. "Djokovic has won the French Open, Rafa is the 'King of Clay' and that's just a beautiful battle that you love to see on the court. There's no doubt that that'll go the distance.
"They both know each other extremely well, and they're both incredible fighters. So that's something that we all want to look forward to and just enjoy some great tennis with two players that have just absolutely dominated the sport over the past couple of years."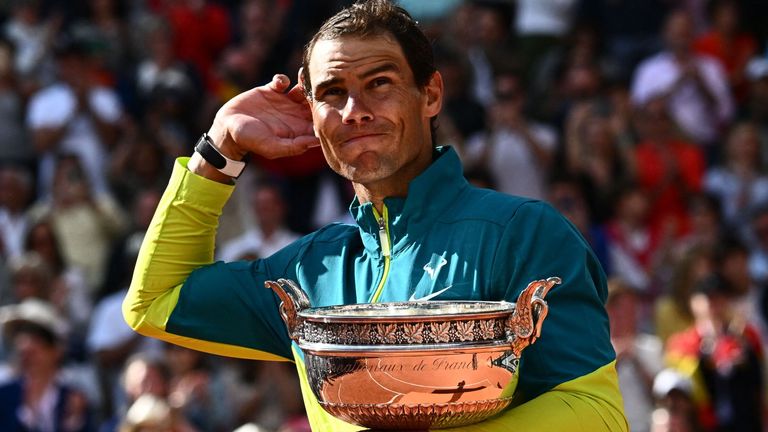 Puig, who won a gold medal at the Rio Olympics in 2016, says she cannot really begin to imagine the number of Grand Slams Djokovic could win if he remains fit and healthy.
"He's continuing to show this level and this amount of dominance and he hasn't really struggled with many injuries," said Puig, who announced her retirement from the sport last year after struggling with injuries.
"He looks fit and he is playing really well. He's one of those players that's very, very tough to beat because you know he's going to be in the match from the first point to the last.
"You have to get him on a really bad day if you want a chance at beating him. So the sky's the limit for Djokovic. I wouldn't be surprised if he were to get another 10 more Grand Slams. But we'll have to see the depth of men's tennis and how the younger generation handle him.
"Can they step up to the task of dethroning one of the greatest players of all time?"
Perfect 10 for Djokovic
Djokovic has won 10 of the 20 Grand Slam events (50 per cent) that he has entered since turning 30 in 2017 – four Australian Opens, four Wimbledon titles, a French Open and a US Open
The Serbian appears to be improving with age, having lifted 12 of a possible 40 major trophies (30 per cent) in his 20s
His latest victory at the Australian Open was particularly ominous, coming for the loss of just one set in the whole tournament despite him nursing a hamstring problem
What happens next?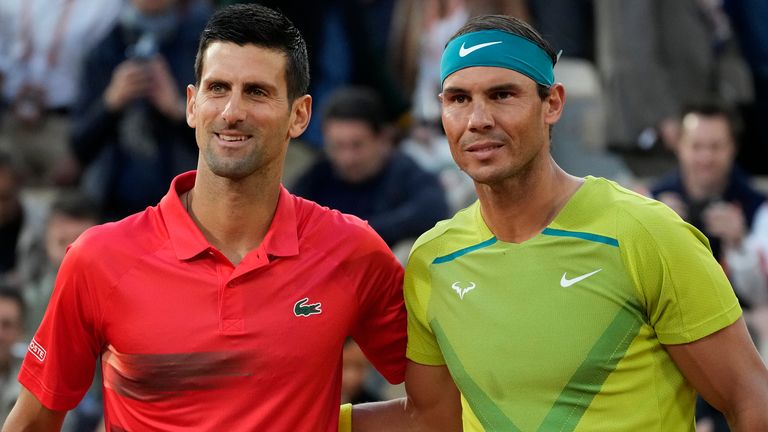 In a best-case scenario, Nadal could return for the next big tournaments in Indian Wells and Miami in March, but may choose to stay off the match courts until his favoured clay.
With the pair locked at 22 Grand Slams apiece, it sets up the prospect of a straight fight for outright supremacy at the French Open, beginning on May 28.