For the past six months, 14-year-old Freya Goldston has attended more school, swimming training and increased her time with friends — but that quality of life is now at risk.
Key points:
Ultra-fast insulin Fiasp will be removed from the PBS on April 1 sending the price soaring
15,000 people using the drug to manage type 1 diabetes are being urged to contact their doctor to find an alternative 
Users say there is no alternative available that offers them the same assurance and quality of life
Fiasp, the ultra-fast insulin she relies on to treat her type 1 diabetes will be taken off the Pharmaceutical Benefits Scheme (PBS) next month, sending the price soaring.
The Sunshine Coast teenager started taking Fiasp after it was approved for people under 18, and said the medication has had an "incredible impact" on her life.
"It's really helped me just feel normal," Freya said.
Fiasp is the fastest working "new generation" insulin available on the PBS.
Freya said the medication was four times faster at regulating her blood sugar levels than her previous insulin.
"It means I can eat with my friends at a normal time and I don't have to miss out on swimming training, which is really helping me with competitions," she said.
"On my old medication, sometimes I'd have to step out of class before lunchtime and miss out on school, because it would take an hour and a half to two hours to actually work for me.
"And if I did mess the insulin up, it means it would be almost dangerous — because when I have meals, my blood levels could go really high and I'd maybe have to go home feeling sick and dizzy."
The drug's manufacturer Novo Nordisk said offering the drug on the PBS was no longer commercially viable because of federal government price cuts.
Federal Health Minister Mark Butler's office said the government was working with Novo Nordisk ahead of the medication's exclusion from April 1.
"We understand the decision by Novo Nordisk to remove Fiasp from the PBS has been concerning for many Australians living with diabetes and their families," a spokesperson said.
'Is it ideal? probably not'
Almost 8,000 people have signed an online petition to save Fiasp from "falling off the PBS".
Australian Diabetes Society chief executive Sof Andrikopoulos urged the 15,000 Australians who were using Fiasp to talk to their health professional to find an alternative.
"There will be an alternative medication for every person with diabetes," Dr Andrikopoulos said.
 "Is it a better alternative? Well, that's the question.
"The alternative is for people to go on to fast-acting insulin [rather than ultra-fast Fiasp].
"Is it ideal? Probably not."
He said Fiasp had advantages in preventing the side effects associated with having abnormally high or low blood glucose levels.
"It gives comfort and security for people with diabetes to be able to take their insulin with the meal," he said.
"There is some evidence that it does prevent those hypoglycemic events which are very, very concerning for people with diabetes."
Irregular blood sugar levels can damage blood vessels and lead to a heart attack, stroke, and problems with the kidneys, eyes, gums, feet and nerves.
Soaring price hike
A spokesperson for Novo Nordisk said Fiasp would still be available to Australians on a private script.
Freya's mother Jackie Goldston said the family was working out how they were going to afford to pay the major monthly price hike for the "life changing" medication.
"It'll go from $7 a month to $280 a month," Ms Goldston said.
"I'm not sure how many people can afford that kind of impact on their family budget at this time when everything's getting more expensive.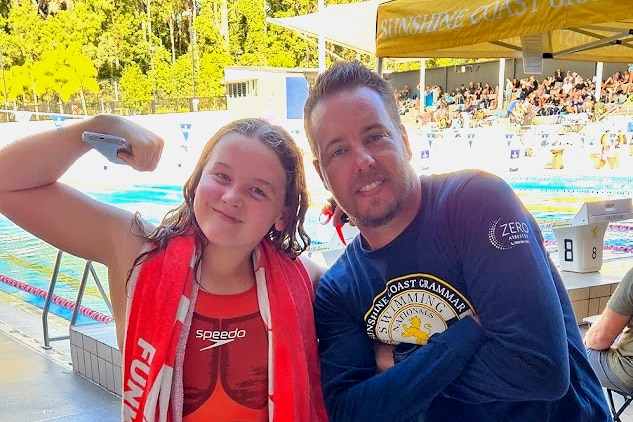 "We've been talking about whether we can cut back on coffee, whether private health insurance can help, we may not be able to get her a race suit for nationals."
Ms Goldston called on the government to do more to find a modern alternative.
"It just doesn't seem like it is actually real," she said.
"It doesn't make sense why we only have insulin medication available in the market [on the PBS] that's 15 years old.
"Essentially, we're going back to an insulin that was available before Freya was diagnosed when she was a baby."