In his 40s, Mitch Larsson* decided to ditch his legal training and become a sex worker.
While for many in Australia sex work comes with stigma and discrimination, Mitch says his career change was a hugely positive one.
Taking up the job "was one of the best decisions I ever made", he tells ABC RN's Life Matters.
Despite the sacrifices it led to, Mitch says sex work taught him about his own and others' vulnerabilities, and became one of the most meaningful jobs he'd had.
An escape from feeling trapped
Mitch, who grew up in Melbourne, says he's "always been fiercely independent and always keen to try new things".
After "bouncing around" from studying science to working in software sales, to quitting work and travelling Australia on a motorbike, he returned home to study a law degree.
During that time he met his wife-to-be, a doctor. Soon after he graduated, the couple had a child and it made sense that Mitch, an early career lawyer on a lower salary than his wife, would become the stay-at-home parent.
It was a tough adjustment. Mitch says he felt "trapped" and found the lack of time to himself, and the long days at the playground with his son or waiting for his wife to return home, "really, really hard".
"I sank into many deep depressions during that time," he says.
It prompted him to make a decision he regrets.
"I cheated, but not physically. I started conversing with a mother from our childcare centre. My wife found out and that was just as devastating for her as a physical affair would have been, and I felt terrible."
In a bid to keep their communication honest, and their relationship intact, Mitch asked his wife if they could have an open marriage; that is, stay together but see other people.
"She didn't want it," Mitch says. "But being scientific, she read a whole lot of papers about it. She researched the viability of it actually succeeding and she said yes."
Meanwhile, the woman he'd been flirting with from the childcare centre had planted a thought in his head.
"She just mentioned that I was a very sexual sort of person. And she said the words to me, 'Have you been a stripper or an escort before?'
"The thought of becoming a male escort popped into my head, and I took it from there."
A 'side hustle' takes off
Mitch's wife saw his new career plan as an extension of the open relationship they'd already agreed to, and she was supportive of his entry into sex work.
They both thought the gig would be a side hustle. But after Mitch posted an online ad in early 2019, he began to receive bookings almost immediately. Some involved interstate and international travel.
"We didn't realise how much the job would actually take off," he says.
His clients ranged in age from 30 to over 70. They included women who had lost a partner, or who hadn't had a partner for a long time and felt nervous about physical intimacy. Some had experienced violence in their relationships.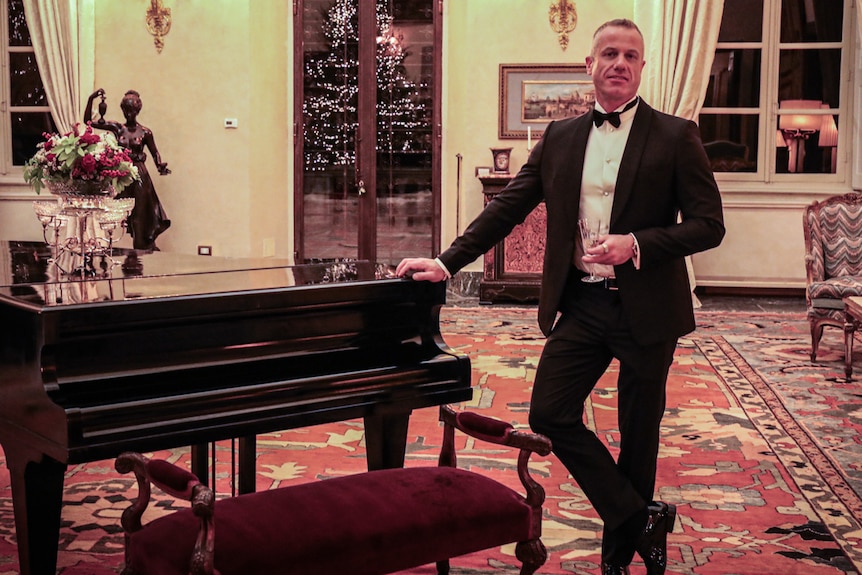 Mitch says many of his clients told him they'd been cheated on, had felt judged or not listened to by men, or had not had their sexual needs met by their partners — all of which impacted their confidence.
"The women who saw me were very nervous," he says.
"I often had clients visibly shaking [and who] could barely talk.
"They'd often say to me, 'Am I doing this right?' Or, 'Would you like me to do this better?'"
He believes it was "a relief" for his clients to be in "a non-judgemental, completely free environment to talk about their whole lives, what brought them to see me and what they needed from me".
"That was roughly 80 per cent [of the work]. And then when the time was right, and if they were comfortable enough, then we could take it further."
Learning about pleasure
Mitch says a lot of women he worked with told him they struggled to express what they wanted sexually. They also had trouble relaxing and focusing on their own pleasure. He saw his role as helping his clients to do both.
"I believe it was good because … I could give them the confidence to go out into the dating world armed with some sort of sexual knowledge," he says.
In sessions together, he would check in with his clients regularly.
"As is always the case, ongoing enthusiastic consent is essential and even more so when you're doing [sex work] as a profession."
But communication started well before he met up with a client.
"I made it a condition that we would speak on the phone beforehand, just to start easing into the whole process [and] so they could get to know me, put a voice to the pictures," he says.
Mitch, who has written about his experience in his book, Time For Her: A Memoir of True Romance, says he loved his job.
He enjoyed "being the breadwinner" after several years of not being in paid work. But more than that, he enjoyed providing a service that he believes helped many of the women he worked with to feel better about themselves.
The moment to leave
Less than a year into his new job, Mitch was finding the balance of work and home life impossible. Inquiries for his services "just kept coming in" and he was working three to four nights a week. 
"It was very hard to juggle … and I didn't do it particularly well … I did let the family down," he says.
He says his wife couldn't rely on him for "basic parental duty" because he was either too tired or away. Just before COVID hit in 2020, the couple separated and Mitch moved out of the family home.
"I was quite lonely.
"I was living alone during the COVID lockdowns but I had to pick myself up when I was able to work, to do the job properly. And that proved really difficult at times," he says.
"I had to just shut off my mind to missing my son or what my family was doing and have to get in the mindset of a single man, who's there just to please the person they're with."
Having to intensely focus on his appearance was also beginning to wear away at his self-confidence.
"It was necessary [to] pay attention to all the smallest parts of my body to make myself as perfect as I could," he says.
Mitch was burnt out, and he realised earlier this year it was time to leave the job.
He has no regrets about his career pivot and says sex work led him to where he is today.
He now coaches new, older escorts (aged 40 and over), writes regular sex and relationship columns, and hopes to eventually move into an education role, teaching young boys about consent and respectful relationships.
And he says there are lessons he learnt on the job that he'll carry with him forever, like the importance of honesty and good communication, and of being brave enough to try new things.
He has a tattoo on his arm of the words, "What else is possible?" It's a motto he's committed to living by.
*A professional pseudonym, not his real name.
Leap is a Life Matters series about people who've made huge changes in their lives. Find all episodes here or on the ABC Listen app.
RN in your inbox
Get more stories that go beyond the news cycle with our weekly newsletter.