They may not have realised but for four days Mildura residents were being lorded over by a large lizard. 
And no, it was not Godzilla. 
Wildlife Victoria officers were surprised when they received a call about a goanna nestled atop a radio mast 20 metres above the ground.
The lizard is believed to have hitched a ride into town in a trailer of firewood, before becoming spooked and climbing a support cable to the top of the tower where it became stuck.
After spending four days suspended above the Sunraysia region, an elaborate multi-organisational rescue plan was hatched to retrieve the reptile.
Crane used for rescue
Rescuers first scoped out the tower with a drone and realised they were going to need something more substantial than a ladder to retrieve the goanna. 
Enter a local crane company and snake catcher Terry Carstens.
No stranger to pulling animals from unlikely places, Mr Carstens said there were risks involved in the high stakes operation. 
"Goannas can do a lot of damage to you," he said.
"I had to educate the crane operator with me and make sure he was safe."
The pair strapped themselves into the crane basket and ascended to the goanna's perch.
Goanna gives poor reception
At the top of the tower, Mr Carstens still had to safely retrieve the lizard.
"He was open-mouthed and ready to bite anything that moved," Mr Carsten said.
"The operator was a little bit toey. He never had to do anything like this before."
Fortunately, steady hands prevailed. 
"I put a catching noose on him, so he didn't fall, and guided him into the cage," Mr Carsten said.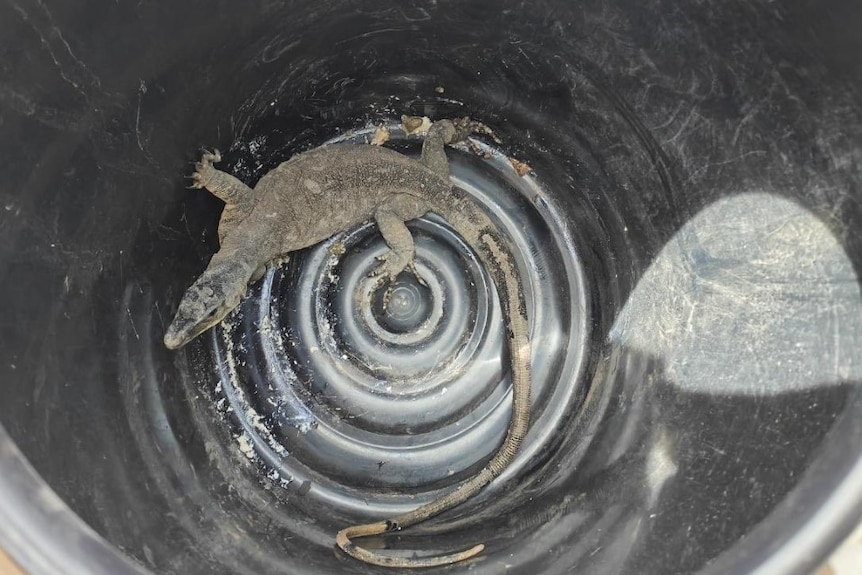 The goanna was slightly dehydrated but otherwise uninjured.
Mr Carsten said the call-out was one of his most unusual — if not the highest — he had responded to.