Barry Humphries holds a unique place in Australian entertainment history: a satirist, comedian and actor whose sardonic yet affectionate pillory of his home country saw him feted in the UK and the US.
Seven months after his death, another side of Humphries is now on show in Adelaide, a city the Melbourne-born entertainer held special affection for.
Twenty landscapes and portraits by the entertainer are on show for the first time at the Adelaide Festival Centre's gallery, the private property of South Australian landscape artist David Dridan, one of Humphries' longest and closest friends.
The pair met in the early 1960s, after Dridan was awarded a British Council grant and a friend advised him to seek Humphries out in swinging London.
Humphries was working as the understudy for the role of Fagin in a West End production of Oliver Twist, Dridan recalls, a role he would reprise on several occasions throughout his career.
Poised to turn 91 next month, Dridan told Guardian Australia from his Adelaide aged care facility on Monday that he had yet to see the collection of 20 Humphries works he amassed over more than six decades displayed as an exhibition.
He is expecting family to take him to the city to view the exhibition later this week.
Dridan says the Humphries' he knew and loved was the antithesis of his two most famous alter egos, Dame Edna Everage and Sir Les Patterson.
"I think the public had the wrong impression about Barry, they assumed he was a bit of a larrikin," says Dridan.
"But he was very much a gentleman, terribly polite, he never swore. He always referred to me as his dearest closest friend."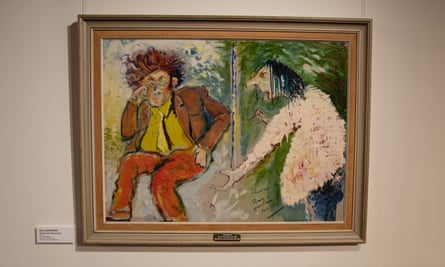 Dridan returned to Australia to become curator at the Art Gallery of South Australia before establishing his own private gallery in North Adelaide in the late 1960s.
Humphries remained in London, securing a number of character roles in West End productions and honing his solo satirical show skills in Peter Cook's nightclub, The Establishment. Cook, Dudley Moore, Alan Bennett and Spike Milligan were in the circle he moved in.
Whenever Humphries returned to Australia, however, he and Dridan would take to the bush for a week or so, to capture the beauty of the Murray River, the Clare Valley or the Flinders Ranges. Those who joined the party over the years included fellow artist Tim Storrier and Adelaide chef Pip Forrester.
Dridan describes Humphries' painting style as expressionist. His portraits drip with the same mocking humour as his stage work – he painted 17 portraits of Dridan over the years – but his landscapes are more reflective.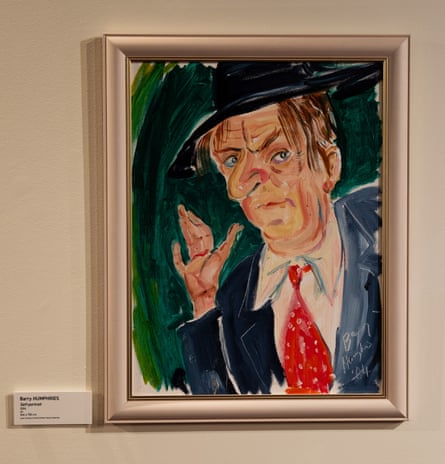 Brisbane art dealer Philip Bacon, a long time friend and executor of Humphries' trust, describes the landscapes as post impressionist.
"There was never any angst in his paintings, they were always painted on holiday and they were always sunny and happy," Bacon says.
"He knew his portraits weren't masterpieces; they were lighthearted, colourful and quick, just like his wit. But Barry was a great observer of people; he could capture a fleeting impression and get it down perfect."
The venue for the exhibition is significant. Humphries had a long association with the Adelaide Festival Centre and in particular Her Majesty's Theatre, where the entertainer debuted as a 19-year-old participant in the Australian Universities Drama Festival. In 2015 Humphries was the artistic director of the Adelaide Cabaret Festival.
Adelaide Festival Centre's performing arts collection coordinator, Helen Trepa, says Humphries love of Adelaide stemmed from both his long performance history with the city and painting its surrounding landscapes with Dridan over many decades.
"It's like peeking behind the Hollywood curtain of his mind to see the personal side of Barry Humphries the artist."