Despite operating four dairy farms with her husband Jed Boshier, a full-time job at ANZ's Agribusiness manager and raising two girls, Ella has found time to join both the WestVic Dairy and Food and Fibre Great South Coast boards in Victoria's south-west.
"It's very easy to sit back and be critical of organisations. I feel that if you want to see change and/or progression, it's important to step up as leaders in our communities and industries and be part of the solution," Ella said.
Neither Ella nor Jed is from a farming background and she hopes their non-traditional pathways and her experience in finance will bring a different perspective to the boards she represents.
"We started our journey on an equity partnership, sharefarming arrangement, lessee and then farm ownership.
"There was no family farm or connection to where we live or farm. It has literally been the initial opportunity, hard work and having the confidence to back ourselves."
It has been a meteoric rise.
Jed came to Australia from New Zealand 20 years ago for the opportunity to enter the dairy industry as an equity partner for a NZ family that wanted to invest in Australia.
After 12 years in that role, he and Ella lived in China for two years working for AustAsia building three mega 10,000-cow dairy farms.
Ella grew up in Wycheproof in the Mallee and moved to near Geelong when school age, but, like Jed, had no family farming connection. None of her four siblings, which includes political commentator Peta, have entered agriculture.
In 2016, Ella and Jed returned to Australia, initially sharefarming near Timboon and since expanding their farming business Boshier Farms Pty Ltd to milk nearly 1500 cows over four farms with 14 employees.
"Jed loved it here and the style of farming it presented. When we arrived back from overseas, we knew the south-west was very reliable dairy country and this would give us the best opportunity," Ella said.
"We started farming when the milk price crashed with Murray Goulburn — so it was a sink or swim moment."
Boshier Farms owns a 400-cow farm at Curdies River, sharefarms with landowners David and Penny Conn on two farms at Ecklin and co-own a recently-purchased fourth farm with the Conns, who originally came from Gippsland and still operate a dairy farm there, but their main operation is beef production on Flinders Island.
"They saw an opportunity to invest in dairy country in the south-west about five years ago and purchased three dairy farms and employed Jed and I as sharefarmers," Ella said.
"We had our own farm then — but were looking for the scale to grow but didn't have the capital to purchase a farm of this size."
Each farm has an individual management structure overseen by Jed and Ella, with trusted advisors being consulted along the way.
"We run a very simple system using as much home-made grass and fodder as we can and try to minimise what we buy in — although seasonal conditions will determine that."
Although not from farming families, both Ella and Jed have completed degrees in agri business and have a passion for the industry and growth.
Ella originally commenced an Arts/Law Degree but finished with a Bachelor of Applied Science (Agribusiness) from the University of Melbourne.
Ella worked for seven years as a rural financial counsellor in the Riverina and then for Cow Bank, two years at Commonwealth Bank before joining ANZ.
Ella was recently awarded 2023 ANZ Banker of the Year which is recognition for her passion for not only the agribusiness industry but in supporting her customers reach their short-medium and long- term goals.
"I am so grateful of the opportunity to be a trusted advisor in their businesses and see their goals achieved," she said.
Ella worked for a few years in Melbourne but admits "it just wasn't me".
"I love small communities. Here we can run our own business, which we are very passionate about, and especially during COVID we appreciated the fresh air and space and doing what we enjoy," she said.
"I'm very big on connections and communities and have always had a desire to be involved in industry."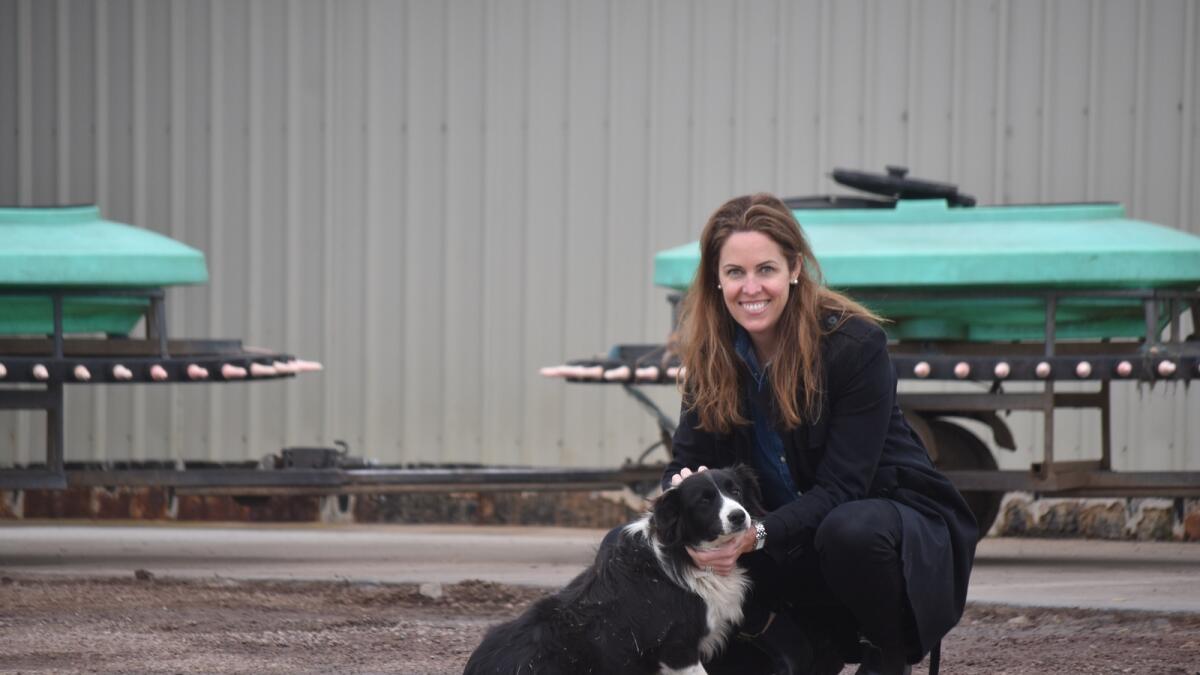 Ella recently completed the Australian Rural Leadership Program.
"Once you do that, you understand how important leadership is, and I felt it was my duty, but also my desire, to step up and give back to the industry."
She describes south-west Victoria as the backbone of Australia's dairy industry and said it was important that what is delivered through an organisation like WestVic Dairy is current and relevant to the region.
"As a farmer group, we need to understand that change is not all bad," she said.
"There are things we need to improve, and as a group, we can take on the many challenges ahead of us — environmental, sustainability, supply and succession.
"We need to continue to maintain milk supply and attract and develop people who will be the succession of our industry.
The challenge is with land values and creating opportunity for people to have skin in the game so that the industry continues to grow and not retract."
Ella said the dairy industry would need to look outside of the square from employer/employee relationships.
"Do we need to explore contract milking arrangements, sharefarming arrangements, equity partnerships?" she said.
"Traditionally these have been successful in countries like NZ, but we are seeing less and less of these. We need to keep the skills and knowledge in the industry and encouraging succession is an increasing and critical challenge.
"Farms are becoming more complex in response to market, pricing and variability.
"The challenge I see is keeping on top of regulation and change and part of this will be environmental and ensuring that our industry is sustainable and acceptable to the consumer.
"It's a tough one and I feel we will need to adapt as we navigate through the next five to 10 years."
Ella hopes her and Jed's success will serve as an example of how people from non-farming backgrounds can succeed in the industry.
"Many assume everyone had succession from their parents, but that's often not the case, so our business can be seen as an example of a pathway of a partnership that gives you skin in the game.
"We've always backed ourselves and had faith in what we're doing.
"As a board member of WestVic Dairy, I hope that we can play a part in addressing the key challenges in a positive way and unite farmers and industry stakeholders to build a stronger and profitable industry for the future."